Thank You Prize Donors 2023 ITWomen Celebrity CIO Scholarship Fundraiser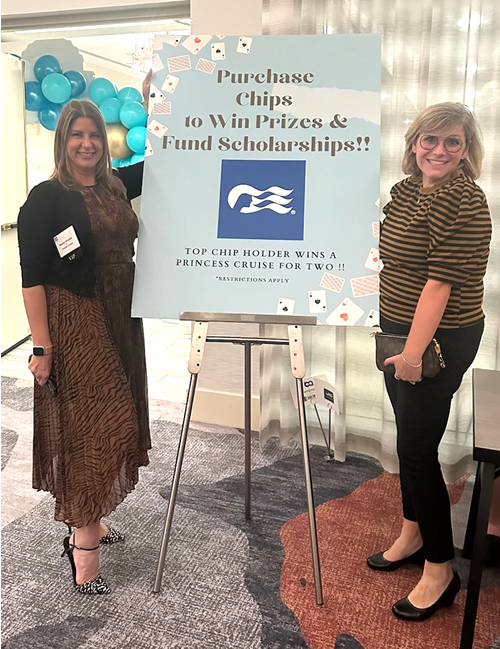 ITWomen's charity Celebrity CIO Poker Tournament & Casino Night fundraiser Thursday raised the game for helping young women pursue Engineering and Technology degrees, and narrowing the gender gap in tech. The room buzzed with energy and high hopes for the luxury prizes generously donated for the fundraiser.
Thank you to our generous Prize Donors for contributing to the great success of this fundraiser, including Princess Cruises, Marriott, Virgin Cruises, Total Wine and more.
Congrats to:
Celebrity CIO Poker Tournament winners:
1st: Jay Smith, Verizon, won the Dream Vacation Week from Marriott Worldwide / Interval International
2nd: Ann Dozier, SGWS, won the Panthers' Game Experience
3rd: Darryl Maraj, GA Telesis, took home the Conte Giangirolama
Top Chip Holders
1st: Tiffany Thompson, SGWS, won the Princess Cruise.
2nd: Debra Gaynor, won Total Wine's Wine Tasting for 20.
3rd: Joe Moura, won the Seasons 52 Gift.
4th: Daniel Marks, Akamai, won the Gourmet Basket.
5th: Daisy McCoy, MVW, won the Stags Leap Cabernet, Courtesy of SGWS
6th: Teresa Colon, Akamai, won the Veuve Cliquot Champagne
Raffle, Virgin Cruiselines
Darryl Maraj of GE Telesis won a trip aboard a Virgin Cruises vacation.
Stay Tuned for final report on how many scholarships were raised;