Leadership Insights for Women in Tech – Fireside Chat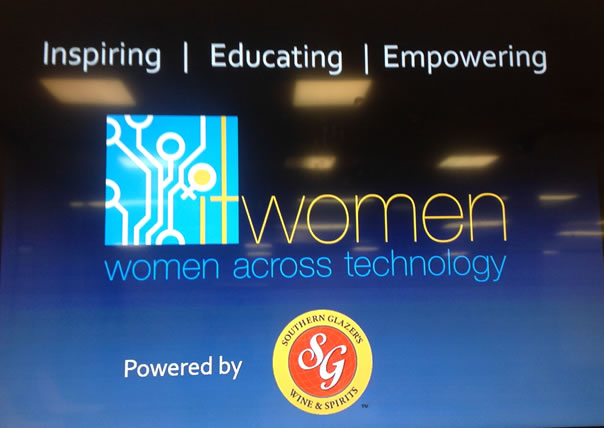 If you were not able to make our Leadership Insights program Thursday at Southern Glazer's Wine & Spirits headquarters, you missed a rare opportunity to hear high-profile female tech leaders at the top of their game discuss:
What it takes to reach the C-suite
Best practices for innovation that drives business value
The surprising attribute that helps women succeed as leaders
The number one trait that holds women back
How different women balance career commitment and family time
How non-tech occupations or degrees can transfer to a career in tech
Southern Glazer's Wine & Spirits Enterprise Technology Partners sponsored this ITWomen professional development program. Southern Glazer's is the largest wine and spirits distributor in the U.S. and one of Florida's largest private company employers.
Before the program, about 50 ITWomen members, guests and SGWS colleagues mingled in Southern Glazer's expansive, game-filled employee Rec Room, connecting over refreshments and excellent wine.
Ann Dozier, Senior Vice President and Southern Glazer's Chief Information Officer, sat for a Fireside Chat with ITWomen advisory board member Arlene DeMita. Arlene, an Advisory Partner with PwC, focuses on transformation and digitally enabled solutions in HR and Technology.
The candid conversation and Q&A continued with our panel on Career Advice Worth Sharing, with SGWS leaders:
Kirsty Dyson, Vice President, Innovation Technology and Customer Collaboration
Amanda J. Lickstein,  Director,Planning and Communication
Maria Hernandez, Director of Innovation
Career Matters
Ann further spoke to the expanding role of CIOs in change management, due to acceleration of digital transformation and innovation.
"We touch 90% of what happens in a business . . . We have to be innovative," she said.
As for women's greatest strength, it's their empathy — and their emotions — added Ann. Contrary to conventional advice, Ann mentioned empathy and hard work as being key ingredients to achievement. Furthermore, Ann discussed how her success is driven by the success of the team and the company.
Her single caveat: be sure your work style and personality fit the culture of the company or your boss when interviewing, so you can freely apply your best self to the business mission.
 Resume Obsession
As for women's greatest hindrance in snaring promotions? All agreed, especially the recruiters in the room, that many women's hang-ups about checking off 100% or more of job requirements before feeling deserving enough to go for a higher position holds way too many women back. Men, on the other hand, have no such self restrictions,  jumping in with 80% or even less of official wish lists.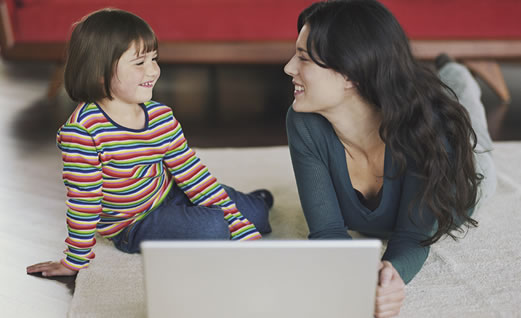 Work-Life Balance
Consensus was that balance is uniquely different for each woman and her company's culture, but all agreed that time with family is about Quality vs Quantity. As Claire quipped, they won't remember who did the laundry, but they'll remember the time you spent with them. Kirsty, when working in the UK, was able to take a year's maternity leave (to the envious groans of most in the room) and was welcomed back freely. Other women can rely on a spouse who has a work-at-home job. Some empty nesters settle on two-city marriages to meet demands of separate, senior-level careers.   
Job Opportunities
Digital expansion is opening wider opportunities. Southern Glazer's announced its 130 job openings, and Arlene encouraged ITWomen members and guests to check out the abundant openings at PwC.
ITWomen Announcements
ITWomen president Claire Marrero opened the program with the latest accomplishments. ITWomen has 17 years of outreach programs to raise the ratio of females in tech and engineering.
She announced that 10 senior high girls had just been selected for the 2018-19 ITWomen's $8,000 college scholarships. The girls will receive their scholarships at an awards dinner in June.
Also in June, ITWomen will open its annual free Coding and Robotics Camps for girls in underserved communities.
In addition, two lucky winners won ITWomen's drawing for a copy of Melinda Gates' book, The Moment of Lift.
Acknowledgments
Deep appreciation for Southern Glazer's Wine & Spirits Enterprise Technology Partners for sponsoring this event, to Kirsty Dyson as event personal host, and to SGWS Enterprise Technology colleagues for their hospitality. Southern Glazer's support through its 2018 Megabyte partnership helps fund the 10 new scholarships, and more.
And gigantic thank you to PwC Advisory Partner Arlene DeMita for her personal dedication to ITWomen's mission serving on our Advisory Board, and to Sustaining Sponsor PwC whose support is underscored by their $25, 000 Imagination grant.
Special mention to our  ITWomen Advisory Board members  SGWS' Kirsty Dyson and Maria Hernandez who contributed their evening to serve on the Leadership Insight panel.