Coffee, Careers & Culture @ Citrix, ITWomen Webinar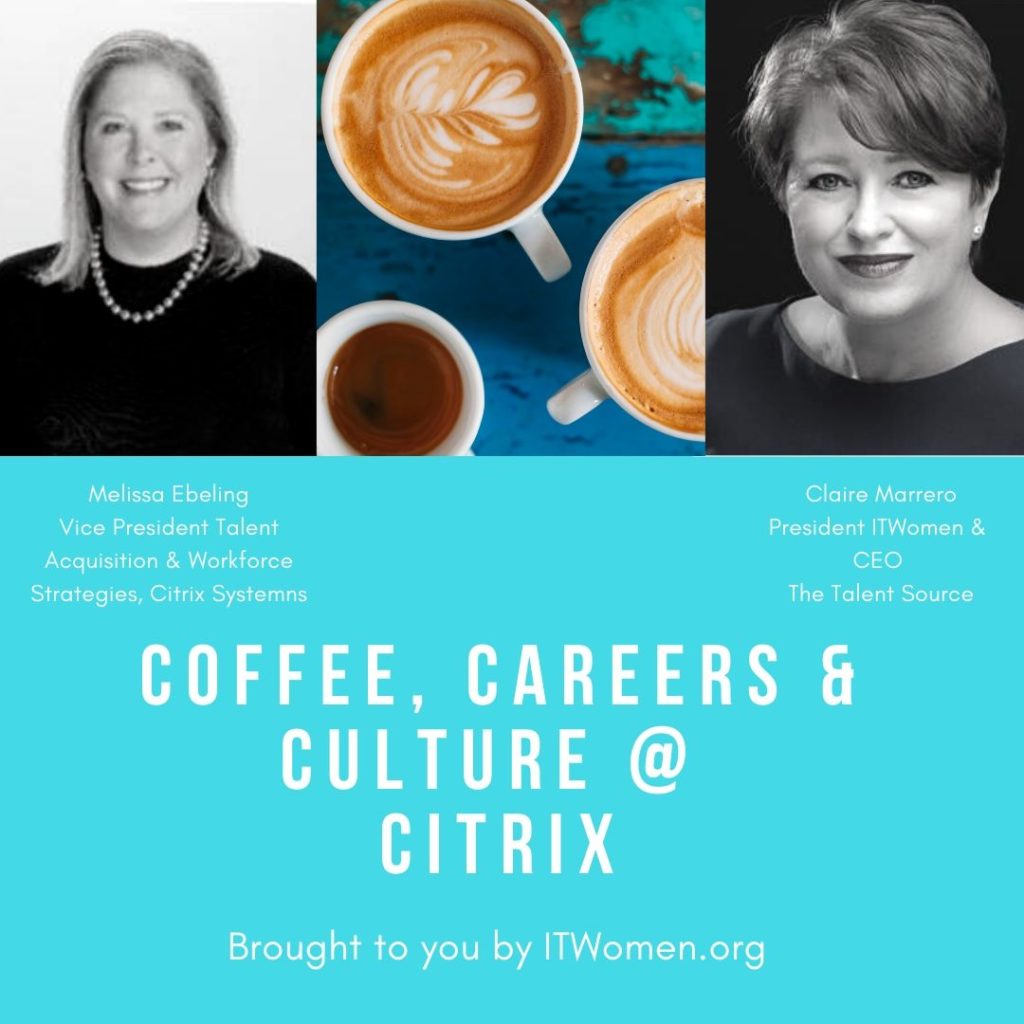 ***We are near capacity! Register now at https://buff.ly/3cDhCeG***

In these times of #COVID19, we wanted to showcase organizations that are still growing and hiring! Zoom with us over coffee for a conversation on Careers and Culture at @Citrix Thur Apr 30 12:30 EST.
Due to COVID-19, many have been furloughed or have lost positions. This webinar delivers first-hand insights as to why Citrix is an organization where top technology talent can explore innovative career opportunities now.
Join Melissa Ebeling, Vice President, Talent Acquisition & Workforce Strategies Human Resources, Citrix Systems Inc and Claire Marrero, ITWomen President and CEO, The Talent Source.

Melissa Ebeling

Melissa Ebeling is bringing a data-driven approach to talent acquisition, people analytics, and workforce strategies. Since joining HR at Citrix, her experience and perspective has allowed her to re-imagine and transform Talent Acquisition , while building a new Workforce Analytics team.

Melissa's use of business intelligence enables Citrix to unite diverse agendas through common goals, while focusing on the strategic and operational drivers that will deliver impactful business results.

Over her 25-year career, Melissa has worked in technology and consulting, and held leadership roles in human resources, finance, operations, information technology, product development, sales and services. She believes in career flexibility, and has seen first-hand that the path to success isn't always a straight line – those twists and turns diversify our experience and amplify what we're able to contribute.




Claire Marrero
As President of the not-for-profit ITWomen, Claire leads a passionate Advisory Board of Tech Executives and volunteers who work to advance women and provide access to opportunity for girls across the fields of Technology & Engineering through a variety of programs including Free STEM, Robotics & Coding Camps for Girls, College Scholarships and professional development events made possible by partners such as Citrix.

As Founder & CEO of The Talent Source, Claire leverages her "Big 4" background and more than twenty-five years experience enabling global brands to attract and retain strategic technology and advisory level talent and help leaders build diverse teams.

In addition to her long term commitment to ITWomen, Claire has held Advisory Board roles for the Office of Economic Development QLD, the Australian Information Industry Association, PMI Sth Florida, Australia's largest Research Center; DSTC and both Miami and Broward Public School STEM Advisory Boards.
***
ITWomen is delighted to showcase our Sustaining Partner Citrix System. Citrix continues to be instrumental in supporting our mission of Advancing Women across the fields of technology and engineering by providing access to opportunities across our community in many ways.