Girls Virtual Summer Tech Camp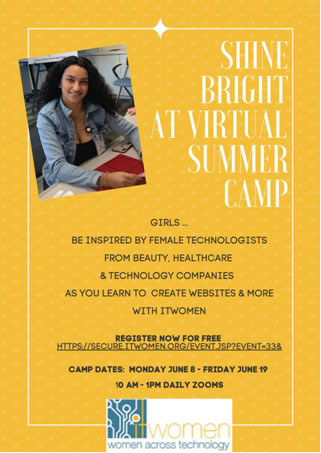 Excited that our Girls Virtual Summer Tech Camp is around the corner.
Registration is now full.
ITWomen's free, 10-day virtual interactive tech camp will be held June 8 – 20, 2020 on Zoom, Mon – Fri, from 10 am to 1 pm.
Girls from middle and high school will be able to leverage their creativity while learning all the essentials to turn their ideas into a real website.
The girls will also hear from career women across tech who are developing solutions for healthcare, beauty, space and much more.
Our Virtual Summer Tech Camp offers the girls the opportunity to connect to a community of other girls and future STEM leaders.
Camp leader Jade Minkoff is one of ITWomen's own 2019 scholarship recipients. A graduate of Florida Atlantic University High School, Jade is pursuing a degree in Electrical Engineering at the University of Southern California.
When the campers graduate, they'll receive a Camp T-Shirt & Free Pizza delivered in celebration for their graduation on the last day of camp, June 20.
Future registrations will be put on a waiting list if a spot opens up.