Girls' Summer STEM Camp ITWomen 2021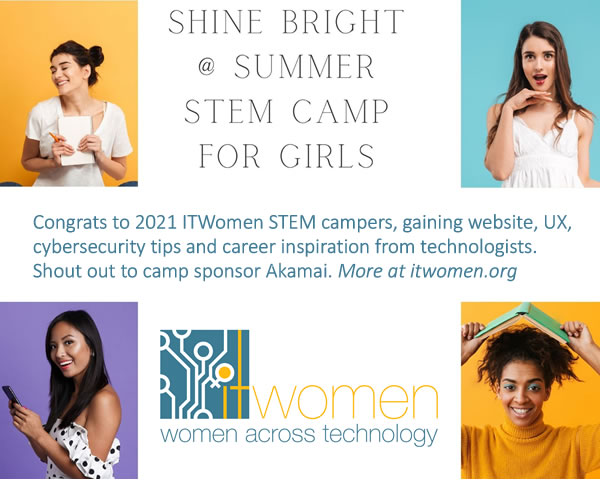 It's a wrap! ITWomen held closing ceremonies for its virtual Summer STEM Camp for Girls on Friday June 25. Roger Barranco, VP Security Operations, Akamai, talked to the girls about the critical need for cyber security specialists. Akamites Jennifer Arbeleaz and Teresa Colon also congratulated the campers for their commitment to ongoing learning and embracing IT Skills during the summer. Akamai sponsored this year's camp, which enabled ITWomen to reach more girls by offering a camp of this caliber free of charge.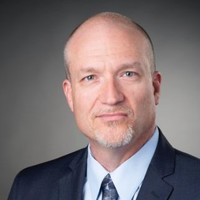 Speakers who volunteered their expertise and some sage advice on careers during the two-week STEM camp represented organizations such as World Fuel Services, UKG, NASA, Ryder, Facebook, Mednax Health Solutions and Akamai.
The girls presented their websites built using skills gained in #UX #coding #Security and #ProductManagement.
The websites ranged from a social media prototype for students and schools to help combat bullying, to creative e-commerce concepts and personal interests that included social justice themes, gender equality, gardening, children's literature and robotics competitions.
Barranco also announced that Akamai has approved a grant for ITWomen. The grant enables ITWomen to offer free "STEM Saturdays" beginning sometime in the fall. The Saturday activities would model the successful results of ITWomen's annual summer tech camps.
Claire Marrero, ITWomen president, moderated and lined up daily speakers who generously volunteered their time to introduce the campers to web development technologies, including a heightened focus on security. ITWomen is extremely grateful for these invaluable speakers including: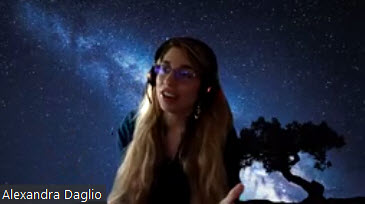 Meika Bryan, World Fuel Services, UX Design/Wireframe exercises
Alexandra Daglio,World Fuel Services, UX Design/Wireframe exercises
Joshua Davis, World Fuel Services, UX Design/Wireframe exercises.
Pragya Malhorta,Senior Director Products, UKG
Suzy Cunningham, NASA Aerospace Engineer
Jamie Russ, Principal Data Scientist, Ryder
Monica Polissky, Product Marketing Manager, Messenger, FaceBook
Sharon Milz, Senior Director Enterprise Services, Mednax Health Solutions
Nikki Deutsch, Social Impact Program Analyst, FaceBook
Ian Nyabwari, Akamai, on Exploits processes
Jon Guild, Akamai, Cyber attacks
Ivelin Yuriev, Akamai, Cyber Trends
Beverly Falconer, Akamai, Counteer measures
ITWomen rewarded the girls' hard work on the final day with a pizza delivery and presented gift cards to recognize these campers:
Isabela Tonerio: Most creative website, a social platform concept for students and teachers.
Sofia Moreno: Returning camper, attending two consecutive years.
Ashley Mitchell: Most active camp participant.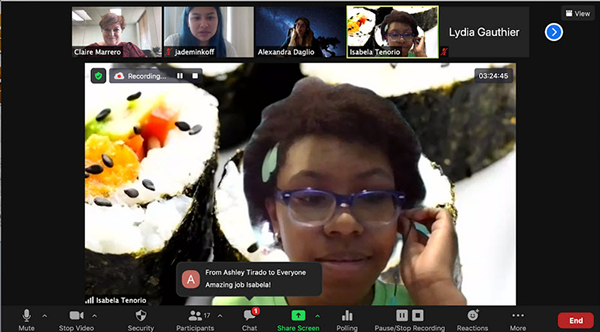 A huge shout out to our amazing camp counselors Jade Minkoff and Ashley Tirado who also are pursuing STEM degrees in tech and engineering with assistance from ITWomen college scholarships.
#MiamiTech #GirlsInTech #FuturesInSTEM #CodingCamp #GirlsCanDoIt