Akamai Hosts Fireside Chat with ITWomen Mentor Chair Margaret Brisbane, CIO, Miami-Dade County
Margaret Brisbane, ITWomen Board member, Virtual Mentor Chair, recently shared her career journey to becoming Miami-Dade County's first female CIO/Department Director in a Fireside Chat with leadership groups at Akamai Technologies.
Akamai's GS America's Inclusion, Diversity, and Engagement (ID&E) team hosted the virtual event, which drew Akamai's Women's Forum Americas ERG, as well as extended teams in LATAM and EMEA. The Fireside Chat drew about 145 participants.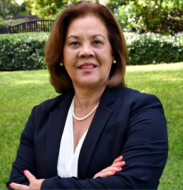 Akamai's Teresa Colon, PMP Senior Security Consultant II, and Jennifer Arbelaez, Director, Professional Services helped facilitate ITWomen speakers for the Fireside Chat. They reported a "fantastic" feedback from viewers.
Claire Marrero, ITWomen president, moderator at the Fireside Chat, said, "As always, much appreciation to Margaret for sharing insights into her leadership journey and to Akamai for its diversity initiatives. We look forward to continuing to co-create programs to increase impact in moving the diversity dial."
Colon said many women at Akamai have expressed interest in becoming mentors to young women awarded ITWomen Scholarships for degrees in Technology and Engineering.
Akamai is a major sponsor of ITWomen scholarships. Margaret Brisbane is chair of ITWomen's Virtual Mentors Program.