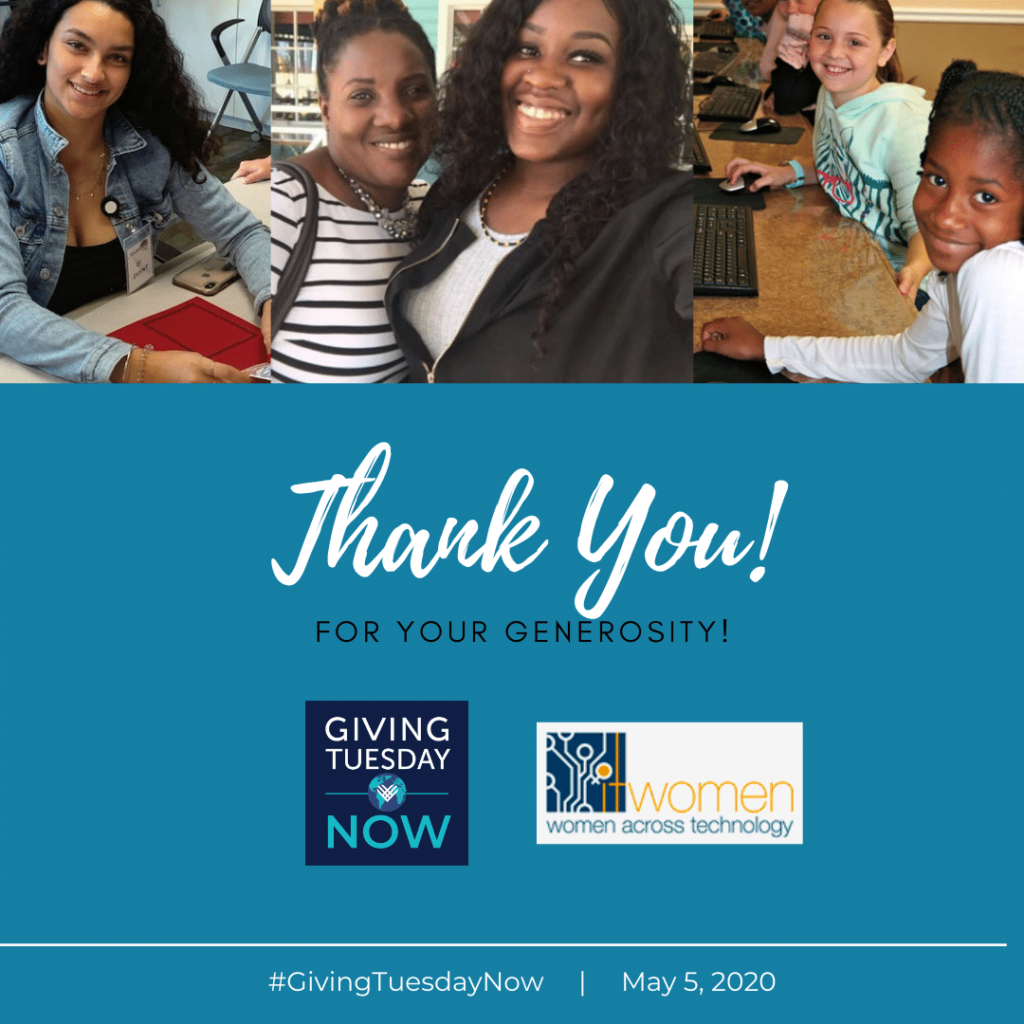 We're thrilled to have raised $1,800 during the week of #GivingTuesdayNow, the 24-hour global celebration of generosity and compassion that was held May 5.
Please join us in giving a HUGE bouquet of gratitude to these individuals who gave so generously from their hearts:
Raj and Anne Rawal
Peter Montada
Shawna Cartwright
Matt Palmer
Margaret Brisbane
Alejandra Lorenzo
Michele Cashin
Their donations will help fund #CollegeCarePackages so greatly needed and appreciated by our 2020 scholarship recipients.
ITWomen was excited to participate in #GivingTuesdayNow. The new day was organized by #GivingTuesday as an emergency addition to its annual global day of giving, held on the first Tuesday after Thanksgiving.
It's Not Too Late to Donate
It's not too late to join our amazing donors in contributing what you can by May 15 for the College Care Packages of essentials and homey comforts.
secure.itwomen.org/np/clients/itwomen/donation.jsp(opens in a new tab)
Due to COVID-19 safety measures, we are very disappointed that we cannot welcome our scholarship recipients in person, with hugs, a Scholarship Awards dinner for them and their families, and a presentation of their College Care Packages .
Virtual Scholarship Ceremony
However, we are looking forward to our first virtual Scholarship Awards ceremony on May 28! Since 2004, many of our scholarship recipients have been the first in their families to attend college. Your donations will help us offer an unforgettable #CollegeCarePackage to send them off to college in these financially uncertain times, and raise the ratio of women in tech.
College Care Packages
Remember the first time you left home for college, or as a parent, sent off your daughter to college? Even in the best of non-COVID times, freshman year can be daunting, lonely, exciting, and intimidating.
Here are some of the essentials and homey items that we typically receive or purchase for our newest scholars:
Gift Cards – Never too many!
Laptop computers
Coffeemakers
Flash Drives
Backpacks
Branded or promotional gadgets / items.
Thank you for your contributions. Contact us with any questions you may have.