Engineer Tells How She Re-launched Her Career After 13-Year Break
In an inspiring new podcast, transportation engineer and former ITWomen Role Model Speakers manager Arlene Willis tells how she re-launched her career in the demanding transportation industry after a 13-year career break.
Talking to iRelaunch.com, Arlene describes the family situations that drove her decision to break from a rising nine-year career track. Arlene built her career in transportation systems, policy, technology integration, enterprise software development and planning. She holds a bachelor's degree in industrial engineering and a master's degree in transportation and highway engineering.
She has been at the Florida Department of Transportation for over two years now, her first full-time role since her career break.
Hear Arlene's compelling story at these links:
Apple Podcasts | Soundcloud | Google Podcasts | Stitcher | iHeartRADIO | Spotify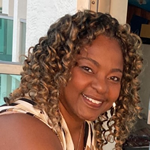 Arlene details her road map for upskilling and the need to "unlearn old ways and relearn new ways" to negotiate a career-re-launch.
During the transition, Arlene kept her foot in the door with college courses in Aviation, volunteer work, and a part-time job inside her field. For ITWomen, she combined her STEM background with her knowledge of South Florida education systems to coordinate ITWomen Role Model speakers with schools.
IT Women Charitable Foundation's Role Model Speakers works to inspire, educate and empower girls to consider a future in tech. The program supports ITWomen's mission to narrow the gender gap and increase diversity across tech.
Co-founder and CEO of iRelaunch.com Carol Fishman Cohen created the site as a resource for "getting professionals back to work after a career break – most often childcare, but also eldercare, pursuing a personal interest, a personal health issue, extended travel, or other reasons. We also think about how other non-traditional professionals – expats repatriating, retirees unretiring, military spouses and veterans, fit into the relauncher demographic."