2022 ITWomen Scholarship Awards
Scholars Pursuing Computer Science, Engineering Degrees

ITWomen has announced its 2022 scholarship winners. Congratulations to these amazing young women:
Rachel Farinas, a graduate of School for Advanced Studies (SaS) Miami Dade College, is headed for a degree in Computer Science at the University of Miami.
Maria Hidalgo, a graduate of South Tech, will be pursuing a degree in Computer Science at Palm Beach State College.
Pascale Michaud, a graduate of School for Advanced Studies (SaS) Miami Dade College, is pursuing a degree in Engineering at Worcester Polytechnic Institute.
Alexis Okafar, a graduate of Charles W. Flanagan High School, is pursuing a degree in Computer Science at Florida International University.
Starting the College Journey to a Career in IT, Engineering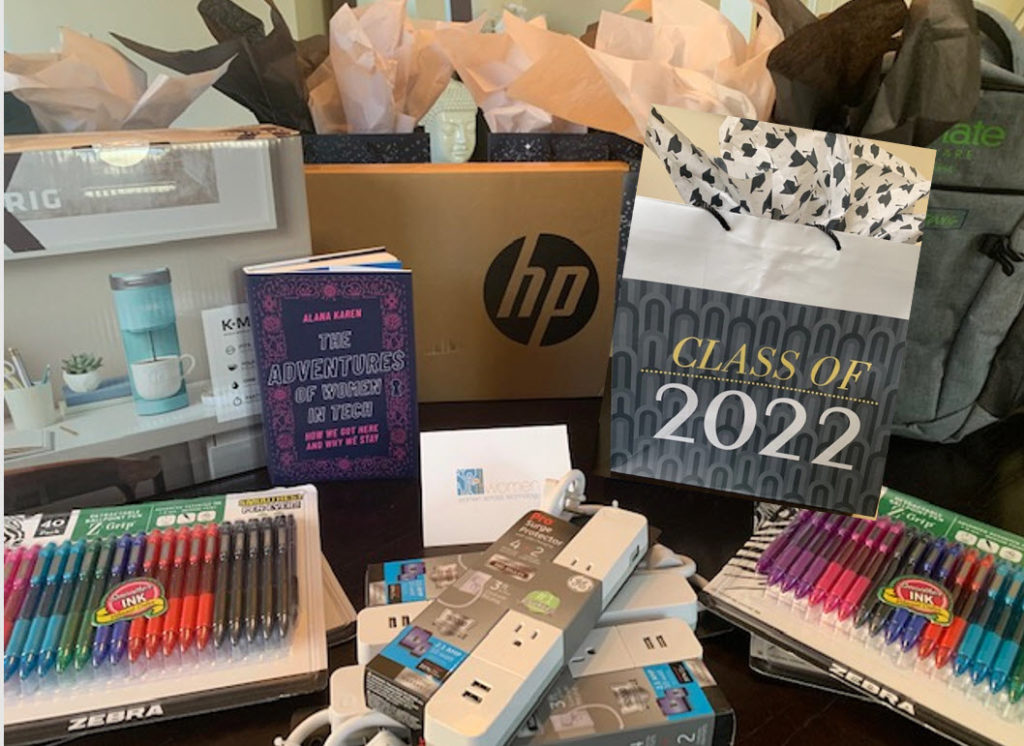 Each recipient will receive $8,000 in scholarship funds over four years. She will also be paired with a supportive ITWomen mentor for her college journey. In addition to financial assistance and mentoring, ITWomen is giving each student a Goody Bag with a laptop computer, coffee maker, a copy of the book, "The Adventures of Women in Tech" by Alana Karen, containing real world stories shared by women working in tech, and many other items made possible by donations from ITWomen supporters.
Growing the Pipeline
Since 2004, volunteer-based ITWomen has raised $850,000 and assisted 134 young women to fulfill their dreams for a career in tech. In turn, recipients inspire more girls to follow in their footsteps. ITWomen's Scholarship Program and our Technology and Robotics camps for girls in middle and high school are entirely funded by donations from supporters committed to our work to narrow the gender gap in technology.
Thank you to supporters
Claire Marrero, ITWomen president, presiding at the June 2 virtual awards ceremony, recognized the generous donors who made the 2022 scholarships possible, including Appian and Southern Glazer's Wine and Spirits, who each sponsored a scholarship and more, and Citrix, ITWomen's Sustaining Sponsor, Akamai, and our many individual supporters, volunteers, and members of ITWomen board of directors and advisory boards.
Speakers who inspired the scholars with advice and shared experiences included board member Krista Theodore, herself a 2009 scholarship recipient who now works as a Cyber Security Engineer at Memorial Hospital, and Meena Mani, VP of Product Development at Crypto TradeStation.
Many thanks to ITWomen board member Margaret Brisbane, Miami-Dade County CIO, longtime chair of ITWomen's Scholarship Mentor committee.
Special shout out to our Scholarship Committee members Dr. Susan Clemmons, Claire Marrero, Tiffany Thompson and Shawna Cartwright, who have the agonizing task of narrowing recipients from the many highly accomplished and motivated female applicants from South Florida high schools who are pursuing a future in tech.