Save Sept 16 for ITWomen Zoom Event: Remote Not Distant – Insights into Hybrid Company Cultures to Help People Thrive!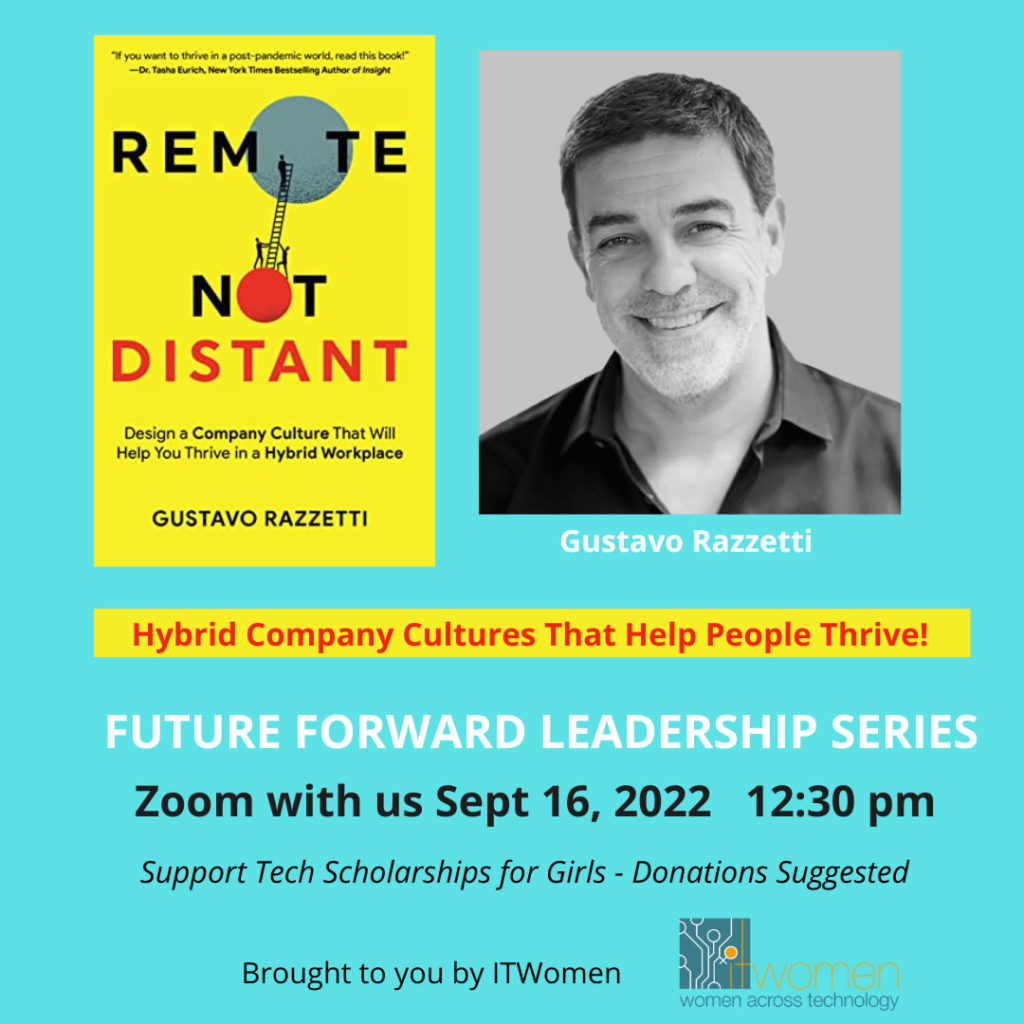 Mark your calendar for a special Zoom event Friday Sept 16, 12:30 – 1:15 pm.
ITWomen is hosting a Future Forward Leadership Series program on hybrid workplaces. The topic is company cultures for hybrid workplaces that can help people thrive.
Enjoy an energizing conversation by Gustavo Razzetti, company culture consultant, author of the recent book, Remote Not Distant: Design a Company Culture That Will Help You Thrive in a Hybrid Workplace.
Please register early as spaces are limited.
There is no charge to attend. However a donation of $25 is suggested and deeply appreciated. All donations will go to ITWomen's scholarship program helping local senior high school girls in STEM pursue degrees in IT and Engineering.

About the Speaker
Gustavo Razzetti is the CEO and founder of Fearless Culture, a culture design consultancy that helps teams do the best work of their lives. For more than 20 years, Razzetti has helped leaders from Fortune 500s, startups, nonprofits, and more in every continent but Alaska.

In addition to his consulting work with clients, Gustavo regularly speaks with leaders and teams about culture change, teamwork, and hybrid workplaces. His coaching and tools have helped countless executives and teams develop work environments where people collaborate to accelerate individual and collective performance. Gustavo is the creator of the Culture Design Canvas, a framework used by thousands of teams and organizations across the world to map, assess, and design their culture.

A prolific writer and author of four books on culture change, most recently "Remote, Not Distant," Gustavo's insights have been featured in The New York Times, Psychology Today, Forbes, BBC, Fortune and others.