2023 Girls' Summer Robotics Camp Kicks Off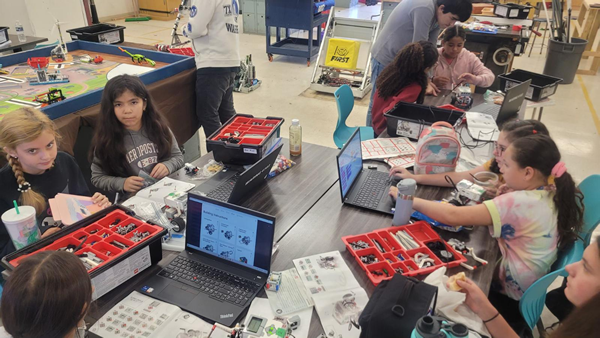 ITWomen's 2023 Summer Robotics Camp for girls kicked off Monday July 10 at South Dade Senior High School in Homestead, FL.
The girls are busy creating their robots under the supervision of Applied Engineering and Robotics Technical Education teacher Shawn Waring.
During the week they'll get inspirational advice on career, tech topics and colleges from professionals in the tech industry, including an overview on cybersecurity from Akamai.
Stay posted for the grand finale Friday when the camp wraps with a Robotics Showcase. The girls will demo the robots they built and celebrate with pizza, prizes and fun activities.
Our tech camps for girls 11 to 17 years old are part of ITWomen's mission to narrow the gender gap by empowering more girls to pursue college degrees in technology and engineering STEM fields.
ITWomen is grateful to the Akamai Foundation, whose grant enables us to offer this amazing opportunity to an inclusive and diverse number of girls free of charge.
Special acknowledgments to Shawn Waring, Applied Engineering and Robotics Technical Education teacher, and to the Akamai team for their invaluable contributions to the camp's success, including Teresa Colon, PMP, CCMP, Jennifer Arbelaez, Roger Barranco, Danny Lopez and Liudiva Ramirez.