Don't Miss Celebrity CIO Poker Tournament & Casino Night Fundraiser Nov 9 Supporting South Florida Women and Girls in Tech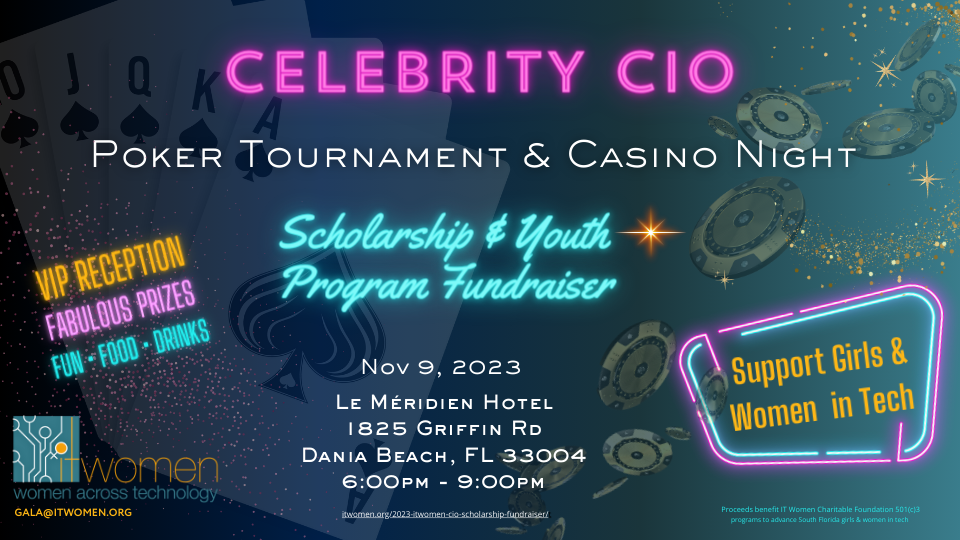 Welcome to our latest Gala Sponsors:
  CAI * Cisco * Compuquip * Princess Cruises * Steven Douglas * UKG
ITWomen's 2023 Celebrity CIO Poker Tournament and Casino Night is happening Thursday, Nov. 9, from 6 – 9 pm at the Le Meridien Hotel in Dania Beach, Florida, 33004.

Proceeds benefit the IT Women Charitable Foundation's Engineering and Technology college scholarships for young women in the South Florida region, and outreach programs empowering younger girls to see their future in tech.

We're excited that more than 20 prominent CIOs and Tech Leaders from the South Florida Tech community are 'all in'. They'll be playing alongside Sponsored players for a friendly game of Texas Hold'em Poker for charity. They include leaders from:

City National Bank of Florida
Cushman Wakefield
DHL Express
GA Telesis
Jazwares
JMFAmily
Marc Henry
Cruise Holdings Marriott Vacations Worldwide
Nova Southeastern University
Otis Elevator
Pediatrix
Perry Ellis
Princess Cruises
Royal Caribbean
Scribe America
SGWS
TIME
Tracfone Wireless
Verizon Value Segment
World Fuel Services
Top Prizes: Princess Cruise, Marriott Dream Vacation, Virgin Cruise
Grand prize for the top Tournament winner is a fabulous Princess Cruise with several destination options.
The lucky attendee who holds the most chips from the floor games wins a Dream Vacation from Marriott!
All attendees can try their luck at the evening's raffle for a luxury Virgin Cruises adventure at $50 per ticket. Raffle Goal: fund at least one additional ITWomen scholarship!
Your Support Changes Lives When It's Needed Most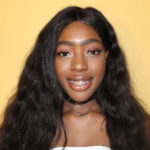 "The experiences and knowledge I've gained from ITWomen's investment in my education are immeasurable. Through ITWomen's support, I have accomplished much of what I once thought was impossible. I hope to one day give back to this foundation, uplifting and supporting the many more women in technology who are sure to succeed me."

– Aranique, an ITWomen scholarship recipient,  simultaneously earned her M.A. in Information Systems and Operations Management with a focus in Data Science and a B.A. in Business Administration at the University of Florida.
***
ITWomen works to narrow the gender gap across technology through proven programs that Inspire, Educate and Empower girls and women to advance in tech. We are a volunteer-driven non-profit founded in 2002 in South Florida by senior-level women in technology.
Our programs include classroom Role Models, College Scholarships, Educational Field Trips in professional settings, Robotics and Programming Camps, and Career Development.